AWR/ASR/ANR locomotives to receive ARG logos
All Australia Western, Southern and Northern locomotives are expected to receive new Australian Railroad Group logos following the branding of Australia Western's Q319 today with the new ARG logos. The logos are the same design as the existing logos but with the letters "AR" and the words "Australian Railroad Group". Drivers's unforms across the three groups and all other Corporate material will also be branded with the new logo. [posted 29/7/02]
_________________________________________________________
UPDATE: ex Mount Newman locomotive No.5499
The ex Mount Newman Mining M636 locomotive No.5499 previously reported as being donated to ARHS by BHP was actually donated to the Torres Strait Islanders (better known as Thursday Islanders). The locomotive was originally due to go to the islands then Queensland but problems have prevented this. ARHS have agreed to give the locomotive a home at the Rail Transport Museum, Bassendean. The Alco will most probably eventually be transferred to the old Midland Workshops when a permanent location is allocated by the Midland Redevelopment Authority. The Torres Strait Circle of Elders in Perth would prefer this location as they were first based in Midland when they came to W.A. in the 1960's to begin construction of the W.A.G.R. standard gauge line. The locomotive is expected to arrive sometime next week and will be placed on a specially laid 25m section of heavy Pilbara rail at the museum.
Thanks to Ian Studham for the updated information [posted 26/07/02]
_________________________________________________________
Derailment blocks south west main line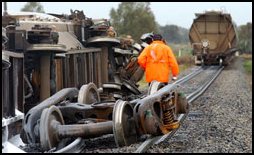 Six wagons of an Australia Western Railroad train carrying alumina from Alcoa's Pinjarra refinery to the Bunbury port were derailed early today (Friday 26 July 2002). The derailment occurred at 6.25am, about 1km south of Brunswick Junction, north of Bunbury. No one was injured. The derailed wagons, which each weighed about 80 tonnes, blocked an access road to a cattle sales yard.
The track also is used by the Bunbury to Perth Australind train service and services for the train will run as normal but passengers would be taken around the crash site by road coach. The track is due to re-open on Sunday (28/7/02). Westnet, which owns the rail link, is investigating the cause of the derailment, no locomotives were damaged in the derailment.
Courtesy "The West Australian" Newspaper [posted 26/07/02]
_________________________________________________________
Pemberton Tramway resumes operations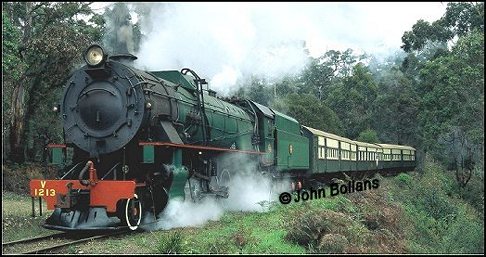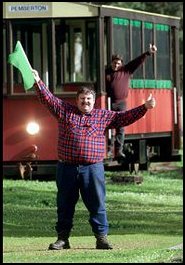 As of today the Pemberton Tramway has secured suitable insurance to enable full operations to resume. Trams will commence running on

Friday 19th July 2002

with Warren River Trams Departing at 10.45am and 2.00pm everyday. Steam Train services hauled by V 1213 will recommence on

Saturday 20th July

to Eastbrook Siding at 10.30am and 2.15pm and on Sunday to Lyall departing at 10.30 am each weekend.

(Thanks to PTCo. Operations Manager Neil Blinco for providing this information - Check the "Pemberton Tramway" website for more information

[posted 17/7/02]
_________________________________________________________
Ex Mount Newman Mining M636 locomotive No.5499 for ARHS (W.A)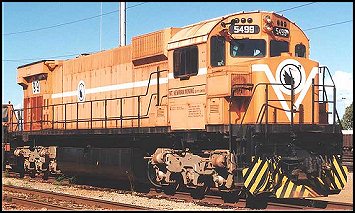 Ex Mount Newman Mining locomotive 5499 has been donated to the Australian Railway Historical Society by BHP Iron Ore. The locomotive was the last of the M636 type to operate in the Pilbara and will be the first standard gauge locomotive for the ARHS (WA) collection. It is unsure whether the locomotive (minus its power unit) will be brought to the Bassendean museum, or the old Midland Workshops when it makes the journey down to Perth in a few days time.
(This photo of 5499 comes courtesy of Toad Montgomery's excellent "Pilbara Railway Pages" website which covers all aspects of the Pilbara railways)
[posted 16/7/02]
_________________________________________________________
Two extra wheat fleets for Geraldton
Two extra 50 XW wagon wheat fleets have commenced running out of Geraldton. AWR have sent around nine extra locomotive operators to the Narngulu Depot to enable adequate crewing for the extra fleets, which are expected to remain in Geraldton for at least 6 weeks. Australia Western Railroad's Narngulu depot today boasted locomotives P2001, P2002, P2003, P2007, P2012, P2013, P2015, P2017, DA1572, DA1576, the most seen for some years.

(Thanks to Phil Melling for info on the locomotives - Check the "Geraldton Trains" website for photos and info about trains in the Geraldton and Midwest region)

[posted 16/7/02]
_________________________________________________________

Kojonup - Farrar Railway tourist railway order granted
A new tourist railway could be operating in the southwest of Western Australia following the granting of the Kojonup - Farrar Railway Order 2002 to the Shire of Kojonup. This 5km section of line from Kojonup to Farrar formed part of the Donnybrook to Katanning line, closed many years ago. It is not entirely clear how advanced the project is, but it is believed the motive power and rolling stock to be used is privately owned and currently stored at the Boyanup Museum. [posted 12/07/02]
_________________________________________________________
Insurance crisis forces Pemberton Tramway to close
The national insurance crisis has hit Western Australia with the popular Pemberton Tramway forced to close until public liability insurance can be sought. The closure will see Pemberton without its major tourist attraction operating for the upcoming school holiday period.
The Bennett Brook Railway at Whiteman also is under a cloud with its premium due to rise from $6500 to $45,000 in November.
In todays "The West Australian", Opposition Leader Colin Barnett and Association of Rail Preservation Groups president Lindsay Watson called on the Government to act immediately.
In other news
Tasmanian Govt announces $1M funding pool for rail groups
-
read more
_________________________________________________________

Ex BHP D48 arrives for South Spur Rail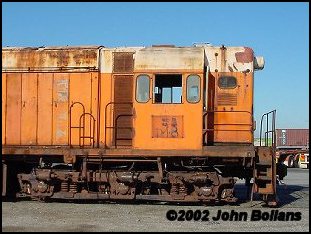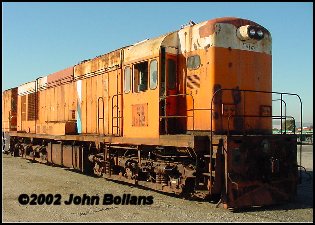 South Spur Rail have taken delivery of their fifth standard gauge locomotive in D48. The ex Goldsworthy No. 7 locomotive arrived from BHP Port Kembla in June 2002 and is currently stored at Kewdale. South Spur Rail purchased D48,D46 (frame) and D50 (accident damaged) earlier this year and the latter two locomotives were stripped of all useable parts and scrapped. D48 is expected to be fully operational by the end of 2002.