__________________________________________________________________

First pictures of K205 in Midland Railway Co. livery
K205 is almost ready to haul the "Spirit of the West" restaurant train. Due to be launched on 11 October 2002, meticulously restored ex Trans Australian coaches will form the restaurant train which will initially run from East Perth to Fremantle and return on Friday and Saturday nights with eventual Sunday lunchtime trips. The initiative by South Spur Rail Services will operate under the Midland Railway Company name. An advert appeared in the West Australian Newspaper today for Waiters and Waitresses to staff the train.
The power car also features the same livery as K205 and has "Spirit of the West" in large letters on each side. [posted 18 Sept 2002]
__________________________________________________________________
Kwinana semaphore signals donated to Bennett Brook Railway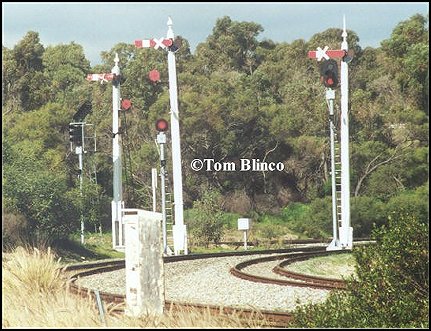 Recently, the semaphore signals at Kwinana, the last such installation on the state rail system, were decommissioned and replaced with a modern computer controlled system. Recognising the heritage value of the semaphore signals, Australian Railroad Group (ARG), through their Westnet Rail company, generously donated the signals and associated equipment to the Bennett Brook Railway (BBR) at Whiteman Park. Garry Howieson, the Signals and Communications Manager at BBR, said the signals would be installed at Whiteman Village Junction, the principal station on the 6km 2 foot gauge railway. They will be connected to the former Subiaco elevated signal cabin, that was moved to the railway a couple of years ago. The signals are part of the plan to fully interlock the station yard, which will include distant, outer home and advanced starting signals. Garry said he and other members of BBR greatly appreciated the gesture ARG has made in donating the signals. ARG went to great lengths to ensure the signals were carefully removed to avoid damaging any parts.
Thanks to Garry Howieson from BBR and Neil Blinco for this story and to Tom Blinco for supplying the photos. [posted 29/8/02]
__________________________________________________________________
XA1401 "Pedong" makes rare solo mainline trip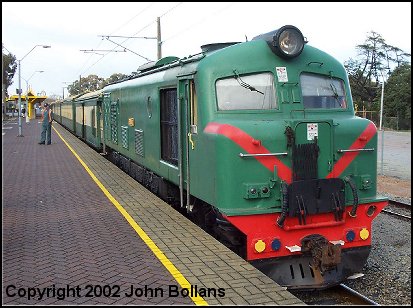 Hotham Valley Railway's vintage diesel XA1401 Pedong made a rare solo mainline outing today. The XA, which performed very well, made the trip to Dowerin, conveying sleeping coaches for use as accomodation in conjunction with the 4 day rural expo "Dowerin Field Days". The train arrived in Dowerin precisely on time at 1.00pm and will return to Perth on Friday 30 August 2002 [posted 26/08/02]
__________________________________________________________________

K205 repaint into "Midland Railway Co." livery begins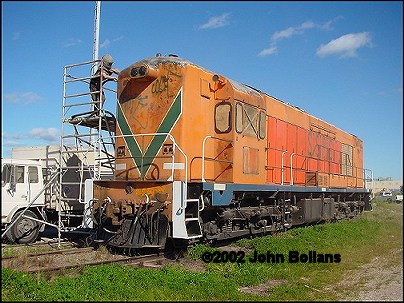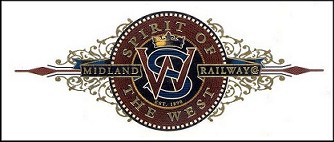 The repaint of South Spur Rail's K205 into Midland Railway Company livery has commenced. The locomotive is being painted into a variant of the original Midland Railway Co. red livery in preparation for use on The Midland Railway Co's "Federation Train", due to be launched in October this year. The M.R. Co. will hire the "Federation Train" from the Australian Railway Historical Society (WA) and will run restaurant trains, conference trains and special rail tours over the standard gauge network. [posted 19/08/02]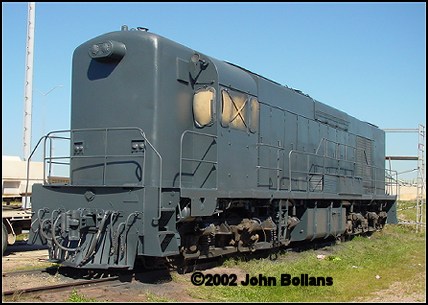 __________________________________________________________________
Q309 becomes second AWR loco to receive ARG logos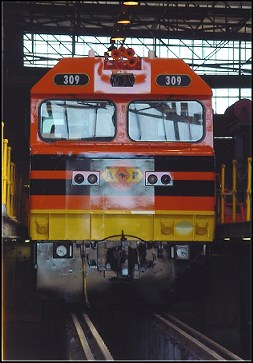 Q309 will emerge as the second locomotive to carry the new ARG logos. Pictured here inside EDI receiving final fitting out, Q309 together with Q312 was involved in the Esperance level crossing collision on 6 March 2002. Q312 is currently at EDI Port Augusta receiving repairs. Q309 becomes the fourth Q class to receive the standard G&W livery. [posted 19/08/02]