GM1,S549 to feature in Centenary of Federation event
S549 'Greenmount' will make a rare outing in October this year as part of the Centenary of Federation celebrations, centering around the special Indian Pacific train from Sydney to Perth. S549, which has not steamed on the main line for over 2 years, will work a train to Northam to meet the special IP and GM1, which is hauling a train of ex Trans Australian coaches from Kalgoorlie. ARHS has received a number of Govt. grants to restore these coaches using mainly unskilled volunteer labour. The 'S' and 'GM' will then possibly parallel run for a short period before heading to Perth. ARG are apparantly providing their accreditation and track access etc for ARHS to run these two trains.
____________________________________________________________
FreightCorp confirm bid for Alcoa contract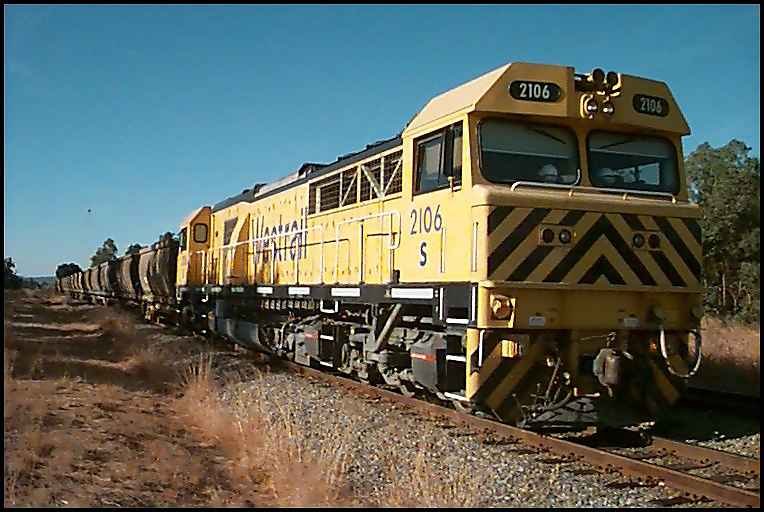 Freightcorp have confirmed that they have bid for the lucrative Alcoa haulage contract in Perth. Bauxite, Alumina and acid make up the main components of the contract.
Queensland Rail are rumoured to also be in on the deal.







____________________________________________________________
CFCLA major financier for bold Leisure Rail W.A. plan
A PRIVATE rail company is planning to bring alive the nostalgia of luxury rail travel between Perth and Albany for the first time in 23 years.

If given the go-ahead, the proposed $7.75 million service would operate trains through the Avon Valley, Great Southern and South-West regions.
Leisure Rail WA says it has raised 70 per cent of the project funds. Chicago Freight Car Leasing Australia major backer of the popular Barossa Wine Train is the principal financier.

Local investment company, Castels Limited, has committed to contribute the balance of the funds by June enabling the rebuilding of 13 surplus steel carriages into international boutique-standard restaurant, saloon, lounge and gallery cars to be modelled on the elegant 1950s European and North American "streamliners".

A 650km trip from Perth to Albany including gourmet meals would cost $99 and take 9hrs 25 mins. (The plane trip takes 65 minutes and costs about $180.) Unlimited travel packages for use within an extended period will be offered for $199.

Leisure Rail WA general manager Graeme Vellacott said he was 100 per cent confident the trains would hit the tracks.

He said the service could be operational by May 2002 and would provide 60 full-time jobs to people in the metropolitan area and 20 in regional and rural WA, as well as boosting associated service industries.

"It will be the best thing to happen to regional tourism in 40 years," he said.

"People in rural and regional areas are absolutely desperately struggling and they see the transport infrastructure system as a way to connect towns and mutually benefit."

The trains will use more than 1000km of existing track, freed up by the deregulation of the state's rail industry last year.

Australian Railroad Group spokesman Len Douglas said the company had held preliminary discussions with Leisure Rail WA.

"We have listened to what they have said but have given no firm commitment," Mr Douglas said. "They will have to meet accreditation requirements and their schedule will have to fit in with our freight trains before we can guarantee access."

Once funds are gathered, the company and its rolling stock would have to be accredited by the WA Transport Department.

The proposed service would include two types of boutique train.

A fine-dining restaurant train, The Moondyner, would leave from a refurbished Esplanade station in Fremantle and travel to the Swan and Avon valleys. Running three to four days a week, it would offer local cuisine and premium WA wines.

A touring train, Discovery Rail, would provide York, Donnybrook, Balingup, Bridgetown, Manjimup and many more towns with a thrice-weekly rail service.

York has not had a regular rail service in 23 years and the South-West towns have not had a passenger rail service for 41 years.

The Great Southern Discovery Rail service to Albany would travel three times a week. The last passenger rail service to Albany stopped operating in 1978.

Marketing director for the Great Southern Tourism Association, David O'Malley, said it was an exciting venture, not just as a mode of transport but a new attraction for the region.



____________________________________________________________
First ASR 830 class in Perth
Govt. provide $70,000 in Hotham Valley bail out
23/03/01

Tourism Minister Clive Brown announced today that the State Government had saved the Hotham Valley Tourist Railway from closure in the short-term.

The company advised the Western Australian Tourism Commission last week that they would cease trading by today unless an immediate injection of funds could be arranged.

Mr Brown said $70,000 would be provided to Hotham Valley Tourist Railways in return for them agreeing to some very strict terms.

He said the short-term finance had been offered to save the railway from closure so the review of its continued viability, due to be finished next week, could be considered.

The rescue funds were conditional on the Railway Board agreeing to:
* undertake a restructure;
*develop a plan of debt reduction;
*orderly disposal of assets; and -
*a reduction in operating costs.

"The railway's board has agreed that a Government-appointed administrator will oversee the daily operations of the railway and will help prepare a plan to restructure and refocus the operation," Mr Brown said.

He said the administrators had been asked to complete a restructure plan by May 31.

"Essentially the State Government has bought the railway time to have one last go at making the organisation self-funding," the Minister said.

"I authorised the bail out offer because I am aware that the railway has a strong volunteer support base and is of some historical and heritage significance.

"However, in providing the rescue funds, I am also drawing a line in the sand that says 'that's it'."

Mr Brown said it was now up to the public of Western Australia to show their support for the railway by patronising it.

"We've done our bit - if people want to keep the railway operating beyond June 30, then they have to turn out in sufficient numbers to make the service viable beyond that time," he said.

Mr Brown said the decision to provide short-term funding for the railway had been difficult in light of the tight Budget the State Government had inherited from the previous government.


___________________________________________________________
Proposed $7.75 million luxury rail service for W.A.
The following article appeared in The Sunday Times on 18/03/01 outlining a plan by a Perth company to run passenger trains to the South West

LUXURY LINE
A proposed $7.75 million luxury rail services linking York and Albany could hit the tracks by autumn next year. When operational, the train will link 20 country towns - some which have not had a regular rail service for 40 years. It is expected to boost the number of tourists lured to the South-West. Leisure Rail W.A Ltd has raised $5.25 million to buy and refurbish locomotives, rolling stock and provide infrastructure.
____________________________________________________________
Hotham Valley Railway facing closure
without Govt. cash injection
The following article appeared in 'The West Australian' on 17/03/01 regarding the financial state of Hotham Valley Railway.

RAILWAY SHORT OF STEAM
The Hotham Valley Railway is in financial trouble. Railway executives will meet Tourism Minister Clive Brown and the W.A Tourism Commission next week to discuss State Government funding.
The non-profit organisation got a $350,000 State Government grant in 1996. But it is understood it needs more money.
The Government is awaiting independent advise, due by the end of the month, on the financial position of the big tourist attraction.
____________________________________________________________
L262 makes second test run
A very attractive looking L262, the first ex Westrail locomotive to be painted into the new Australia Western livery, made a second test run today 8 March 2001. With L260 in tow, the duo ran from Clyde at Forrestfield to Midland and then a short distance 'up the valley' before returning back to Clyde for more adjustments.
Clyde have confirmed L262 will be released to AWR for entry into traffic on Friday 9/3/01 or sometime over the weekend 10-11/03/01. The picture above shows L262/260 at Forrestfield about to exit Clyde's access line.





____________________________________________________________
First Sneak Preview of L262 in ARG Colours
These digital photos taken inside Clyde's paintshop on 15/02/01 show the first ex Westrail locomotive L262 to receive the ARG Corporate livery of orange,black & yellow. Australia Western Railroad logos will be applied to the ends. The contractors completing the painting have indicated there will be no modifications to the standard ARG livery for this locomotive to visably show represention of Wesfarmers as being 50% owners of ARG.
_____________________________________________________________________
Overhaul of A1514 progressing
____________________________________________________________
AWR begins removing Westrail name from it's loco fleet
Australia Western Railroad has started painting out the Westrail branding on it's locomotive fleet, with newly overhauled locomotives D1562,A1513 and L268 being the first.
In these digital photos D1562 and L268 are shown without the Westrail name. One would assume AWR logos will be applied to these locos.
________________________________________________________________________
Ex Westrail AA1519 alive and well in Chile